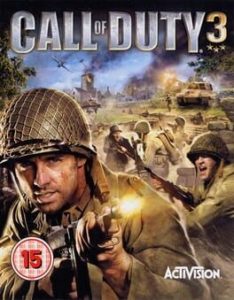 Alternative Namen
CoD3 (Other)
Call of Duty 3: En marche vers Paris (French title)
Zusammenfassung
Call of Duty 3 liefert die Intensität des Zweiten Weltkrieges näher als je zuvor. In diesem Spiel der nächsten Generation erleben Sie den Normandie Breakout – die historische Kampagne, die die Befreiung von Paris ermöglichte und die Alliierten einen Schritt näher an Berlin brachte.
Reise mit vier gewöhnlichen alliierten Soldaten (Amerikaner, Briten, Kanadier und Polen) auf ein authentisches, lebendiges Schlachtfeld für einen beispiellosen Kampf, mit fortschrittlichen High-Definition-Grafiken, detaillierten Charakteranimationen und explosiver Action auf dem Bildschirm. Call Of Duty 3 bietet das eindringlichste und filmisch intensivste Kriegserlebnis aller Zeiten. Teambasierter Multiplayer mit Fahrzeugen für den teambasierten Kampf mit bis zu 24 Spielern. Spielen Sie als Infanterist oder beschlagnahmen Sie Mehrzweckfahrzeuge wie Panzer, Jeeps und Motorräder.
Noch keine Story vorhanden...
Videos und Trailer (1)
Spieler der Serie & Franchise
Call of Duty 3 (Dieses Spiel)
| Plattform | Region | Release |
| --- | --- | --- |
| Wii | Europa | 08. Dezember 2006 |
| Wii | Nordamerika | 19. November 2006 |
| PlayStation 3 | Japan | 14. Juni 2007 |
| PlayStation 3 | Europa | 23. März 2007 |
| PlayStation 3 | Nordamerika | 17. November 2006 |
| Xbox 360 | | 07. November 2006 |
| Xbox | | 07. November 2006 |
| PlayStation 2 | | 07. November 2006 |
| PlayStation 3 | | 14. November 2006 |
| Wii | | 14. November 2006 |