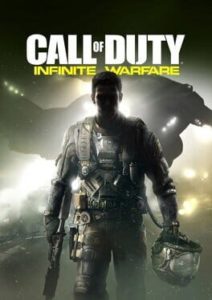 Alternative Namen
Call of Duty: Infinite Warfare Legacy Edition (Other)
Call of Duty: Infinite Warfare (Other)
Call of Duty XIII (Other)
Call of Duty 13 (Other)
Zusammenfassung
Call of Duty: Infinite Warfare bietet drei einzigartige Spielmodi: Kampagne, Multiplayer und Zombies. Campaign ist eine Rückkehr zu den mutigen, militärischen Wurzeln der Franchise, während sie mutig nach vorne blickt und eine reiche und einnehmende Erzählung liefert, die in einem Call of Duty-Spiel bisher einzigartig ist. Der Spieler wird sich auf eine klassisch anmutende Geschichte über groß angelegte Kriege einlassen, die in einer Zukunft spielt, in der sich menschliche Konflikte in unserem Sonnensystem ausgebreitet haben.
Multiplayer kombiniert populäre Mechaniken wie das kettenbasierte Bewegungssystem mit einer Vielzahl von Gameplay-Innovationen, um eine der tiefsten und einnehmendsten Online-Erfahrungen im Spiel zu bieten. Der neue Zombies-Modus wird Koop-Spieler mit einem originellen, unverwechselbaren Ansatz und einer lautstarken Erzählung begeistern. Der Titel stellt atemberaubende, multiplanetare Umgebungen, neue Waffen und völlig neue Spielerfähigkeiten vor.
Noch keine Story vorhanden...
Videos und Trailer (3)
Spieler der Serie & Franchise
Call of Duty: Infinite Warfare (Dieses Spiel)
Expansion-Packs, DLCs & Erweiterungen
| Plattform | Region | Release |
| --- | --- | --- |
| PlayStation 4 | Europa | 04. November 2016 |
| PlayStation 4 | Nordamerika | 04. November 2016 |
| PlayStation 4 | Weltweit | 04. November 2016 |
| Xbox One | Weltweit | 04. November 2016 |
| PC (Microsoft Windows) | Weltweit | 04. November 2016 |